Intersolar North America is one of the premier solar industry trade shows of the year. Whether it is your first time or your 25th time (somehow this is the 25th anniversary), the bigness of the event can be overwhelming. What to see? We have you covered. Here are some of the notable news announcements sent our way from exhibitors at this year's show.
Intersolar? More like 'Invertersolar'
A bunch of new and enhanced inverter and inverter + storage solutions will be on the Intersolar exhibit hall floor
Pika Energy's Island connects right to high-voltage batteries
Using a 7.6-kW islanding inverter (X7601), thePika Energy Island centralizes solar, storage, loads and the grid on a single smart bus that transmits power, control and data on the same wires to automate the flow of power. The inverter features an automated internal transfer switch, four integrated DC breakers and islands without the need for an external autotransformer. Best of all, it connects directly to high-voltage batteries without a separate battery interface. The X7601 generates split-phase 240VAC in grid-connect and islanding mode for residential applications, and it generates true three-phase 208VAC power for battery-based commercial applications.
Booth 8125 | www.pika-energy.com
Delta debuts 80-kW, wall-mounted string inverter
Delta Americas is unveiling its new M80U PV inverter — the first wall-mount, 80-kW string inverter in the world, according to Delta. The M80U is a grid-tied, three-phase and transformerless inverter that converts DC output from a PV system into AC with 98.8 percent efficiency, allowing it to be seamlessly used by the electric grid and within buildings. The device's all-in-one design integrates 16 strings with fuse protection as well as arc fault detection circuits. It includes built-in DC switches, AC and DC surge protection devices and two MPP trackers.
Booth 8712 | www.delta-america.com
Check out the Fronius Rapid Shutdown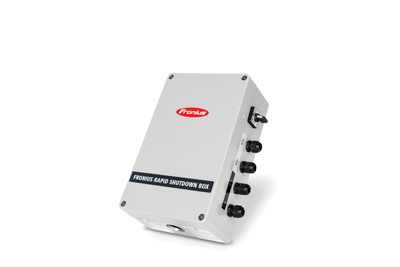 Box-Multi
Fronius is giving an in-depth look at its new Fronius Rapid Shutdown Box-Multi version. This new product started shipping in May and is a larger version of the previously released Rapid Shutdown Box-Single. These boxes eliminate the need for external power supplies, any additional ground-level hardware and any extra conduit since it is directly connected to the inverter through the same DC conduit as the DC homeruns. The rapid shutdown function is initiated whenever AC is not present. Once triggered, the DC lines are rapidly discharged by the Fronius SnapINverter.
Booth 8811 | www.fronius-usa.com
APsystems introduces the YC500i microinverter with EnergyMax
EnergyMax technology allows this new dual-module unit to produce 274 W peak output per side (548 W total), supporting today's high-output PV modules. The YC500i microinverter features an integrated ground and builds on the same advanced, FPGA chip-based platform as the flagship YC500 model, a top seller worldwide. By combing the innovative YC500i with EnergyMax, the APsystems ArrayApp and up to $16,000 in rebates this summer, there's never been a better time to try APsystems and find out why it's the fastest growing microinverter supplier in the world.
Booth 8647 | www.APsystems.com
Storage takes the Spotlight
Save some of your own energy to check out these new solar + storage solutions
OutBack Power's full system on display
At the OutBack booth, check out your FLEX options. FLEXware ICS+ Integrated Combiner System meets the NEC compliance requirements for rapid shutdown and arc-fault capability in PV installations. It assures users of a UL-1741 listed system from rooftop to battery when used with other OutBack products. The system is pre-configured to save installation time in the field and can be roof mounted under panels. The pre-assembled FLEXpower Radian is a series of five advanced systems that integrate matched energy storage with OutBack's Radian inverter/chargers to make specifying and installing battery-based systems easier and more cost-effective. It is available in 4- to 8-kW versions.
Booth 8219 | www.outbackpower.com
Ideal Power unveils bi-directional energy storage inverter
Ideal Power is officially releasing the SunDial, which the company says is the only commercial PV string inverter available with a field-upgradable, bi-directional energy storage port, making the system market ready today for solar + storage. The plug-and-play bi-directional DC port kit enables the SunDial to be installed today and easily upgraded for storage tomorrow. PV arrays may be true floating or grounded with SunDial, which adds a nice design flexibility to the equation. It is also easily paralleled and supports both on-grid and microgrid applications.
Booth 8017 | www.idealpower.com
Meet the fully integrated POWERSTATION 247 storage system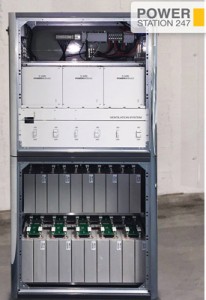 Making its debut to the U.S. market at Intersolar, POWERSTATION 247 is a complete and fully integrated, turnkey, scalable solar energy usage and storage system with built-in battery storage. The system, for homes and small businesses, can be installed on and off grid and comes in three sizes, 5 kW, 10 kW or 15 kW; all have the same battery storage capacity of 17,28 kWh. Its free standing cabinet is easy to install and use. The system integrates up to three hybrid inverters, solar MPP trackers, charge controller and lithium-iron batteries, software and all necessary field wiring terminals and disconnect switches. It is also the first fully integrated system that is UL certified with all components manufactured by only one company.
Booth 8221 | www.powerstation247.com
Tabuchi America adds even more functionality to EIBS system
Tabuchi America will showcase its residential solar-plus-storage EIBS system with new functionalities that the company says gives unprecedented control over energy use. Tabuchi's grid-friendly solution now has four flexible modes that optimize a customer's solar investment by prioritizing their specific needs — from reducing costs and achieving self-sufficiency to ensuring reliable backup power. Tabuchi America's total solution is utility-approved, comes with a 10-year warranty and helps homeowners save up to 55 percent on their energy bills.
Booth 8627 | www.tabuchiamerica.com